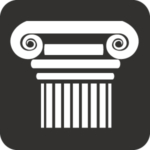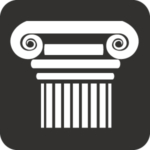 Priori Palace. Pride of the city, dominates with its grandiose size the area between Piazza IV Novembre and Corso Vannucci. Former seat of the administrative, judicial, and prior functions, it now houses the offices of the City Hall and on the third floor the National Gallery of Umbria. Its construction by degrees (from 1293-97 to 1443) and the overlap with older buildings explain the irregularity of the plant and the asymmetries of the facades. The primitive body corresponds to the three left windows on the square and the first ten on Corso Vannucci, while the last extension was made on the high street after the connection of Via dei Priori. The fan-shaped staircase on the square (1902) leads to a large portal surmounted by shelves with copies of the griffin and the lion (the originals are located inside the palace) and leads into the austere Hall of Notari (until 1582 Sala del Popolo), with a vaulted roof supported by eight powerful ornate transverse arches, as well as the intermediate walls and the splay of the windows, from frescoes of the last decade of the thirteenth-century; it's worth noting the wooden benches on the entrance wall and the sixteenth-century seats along the others. On the side facing the high street  there is the beautiful main portal (1346), characterized by a complex allegorical and phytomorphic decoration (in the lunette there are copies of the statues of Saints Lorenzo, Ercolano and Costanzo), and on the second floor, there are 19 amazing gothic mullioned windows. From the Gothic atrium on huge pillars you can climb to the upper floor in the City Council Hall, which houses a fresco by Pinturicchio on the door. Another important room is that of the Audience of the Collegio del Cambio, frescoed from 1498 to 1500 by Perugino, with the help of his student Raphael.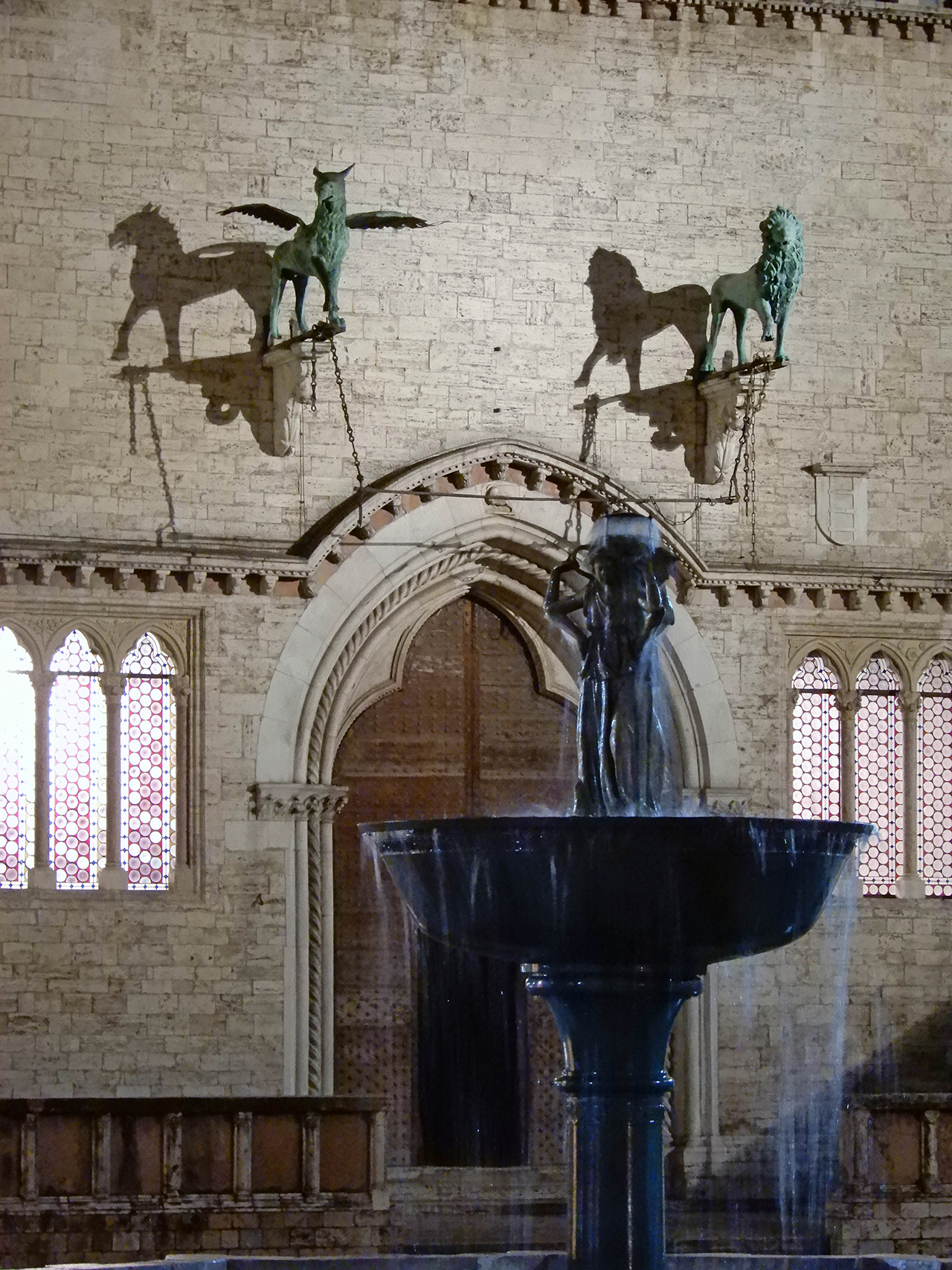 Arch of the Priors. It is so-called the wide vault that in the fifteenth century connected the second factory of the municipal palace (built between 1333 and 1353) and the tower in front: '… it is difficult not to find there the strong wind that is its most illustrated prerogative (Sandro Penna, 1973). In the part above the arch is placed the clock, the place where the Perugini traditionally meet, to access the street.
Arco dei Priori. Viene così chiamato l'ampio voltone che nel XV secolo collegò la seconda fabbrica del palazzo comunale (edificato tra il 1333 ed il 1353) e la torre antistante: '…è difficile non trovar lì il forte vento che ne è la prerogativa più illustre' (Sandro Penna, 1973). Nella parte soprastante l'arco è collocato l'orologio, luogo dove si danno tradizionalmente appuntamento i perugini, per accedere alla via.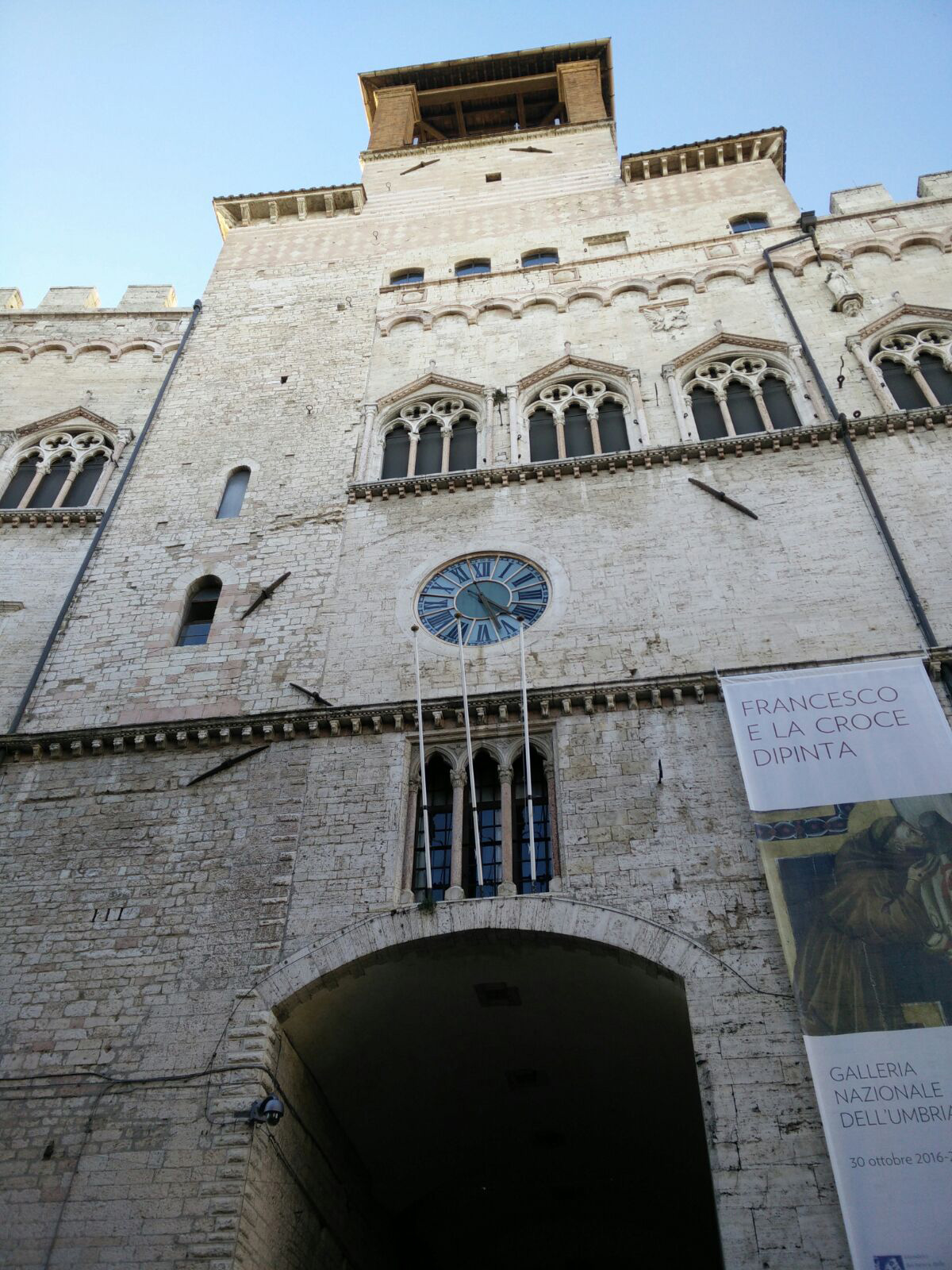 Visiting time
Monday from 12:00 p.m. to 7:30 p.m.
From Tuesday to Sunday from 8:30 a.m to 7:30 p.m.
(opening days and times may vary)
Free entrance